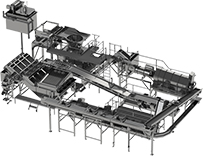 Our vision
To be the premier provider of state of the art technology, equipment and engineering for food processors in Eastern Canada and United States.
Values
Integrity
Accountability
Respect
Creativity
Reliability
Trust
Mission
We are dedicated to ensuring our clients build a fiscally and environmentally sustainable business through innovative approaches, green technologies, energy efficiency and low maintenance solutions.
We are inspired by innovation and committed to working with our partners to develop new and custom technologies and equipment that satisfy our client's individual needs.
We are committed to ensuring our clients offer an optimal work environment for employees through reduction of physical labour, repetitive tasks, and long work hours.
Our people and clients are our foundation, and our relationships are built on integrity and trust.