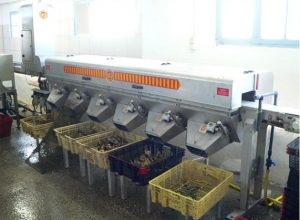 Vision Grading System
Designed specifically for oyster grading, this system uses modern camera technology to calculate the size and shape of an oyster, determining the count as well as choice vs standard grade. The system reduces labour and provides a consistent grade which is difficult to achieve when subject to multiple decision makers and long hours. The system can be fed either manually or fully automatic and uses air injection for gentle removal of the product into the proper grade.
There are several different lines available so please ask for more information.