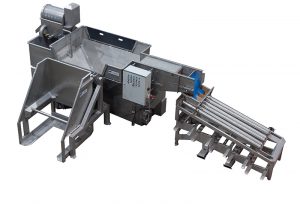 Universal sorter
The universal sorter is especially developed for the processing of fresh whelks or winkles.
The universal sorter is used for accurately sorting of fresh whelks or winkles. Each product is separately transported and therefor separately sorted, so that a high accuracy is guaranteed.
This machine sorts steplessly from 0 – ±3". The sorting range reaches up to 5 sizes, which makes it possible to respond quickly to the current market situation.
The principle of the universal sorter is based on revolving rollers, which consist of sets of 2: one roll is provided with a spiral, the other one is a smooth one and together they take care of the transport of the product, one by one. All rollers are individually driven by a drum motor.
Specifications
Capacity

3,300 lbs per hour
Main dimensions (LxWxH)

102" x 70" x 63"
Video's