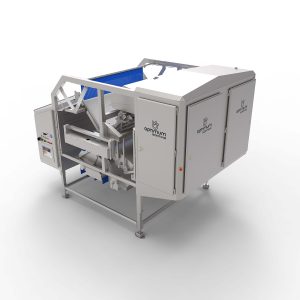 Triplus
The Triplus ® is an optical sorter especially developed to sort products with various optical deficiencies. At the product flow discoloration, deformation and foreign objects are detected and removed accurately. The Triplus® can be used for fresh crustaceans and shellfish, like mussels, cockles and shrimps. Use of the Triplus will lead to quality improvement of your final product, but also to lower and more predictable production costs.
The innovative product infeed of the Triplus®, automatically adapts to the size of your product. The feed system ensures that all products are presented at the inspection and ejection area at the same speed. This controlled infeed results in an optimal inspection and rejection of product. The result is obvious: the desired quality of final product and an optimal good to bad ratio.
The modular construction of the Triplus® makes it possible to choose the perfect harmony of cameras, lighting and other techniques for your application in order to achieve the best sorting result. The double ejection unit enables us to split the product flow in three flows, for example: (1) accept product, (2) product to be revalued and (3) disapproval.
The Triplus® is available in three models with a scan width of 800, 1200 or 1800mm.
Specifications
Capacity and LxWxH Triplus 800

2-5 ton per hour, 3.400mm x 1.500mm x 2.850mm
Capacity and LxWxH Triplus 1200

4-8 ton per hour, 3.400mm x 1.900mm x 2.850mm
Capacity and LxWxH Triplus 1800

6-12 ton per hour, 3.400mm x 2.500mm x 2.850mm
Video's
Downloads