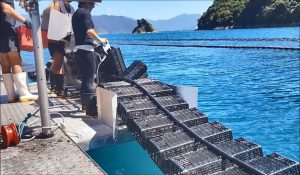 The FlipFarm system
FlipFarm is not just a new oyster growing system, it's a completely new way of thinking.
FlipFarm takes efficiency and equipment resilience to a level never seen before in oyster farming systems.
FlipFarm provides an ideal environment for oyster growth, conditioning and hardening along with the ability to have complete control over fouling, pests and predators. The system is extremely easy and efficient to use and can be adapted to many growing environments.