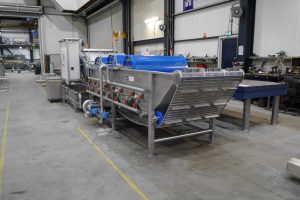 Seaweed washer
The seaweed washer or seaweed washing machine, is especially designed and manufactured for processing of fresh seaweed. The seaweed is cleaned in the bubble bath. Through peristaltic air tubes the products are going further into the machine. After cleaning the seaweed, the seaweed is carried out with a Stainless-Steel wire link belt. The seawater what is been used in the washer is constantly circulated in a closed system. But there is also the option to feed the machine with fresh seawater.
Advantages are:
• Automatic dump valve for waste
• Powered floating parts separators
• Air tubes for peristaltic product transport
• Circular closed water consumption system or constant supply of fresh seawater.
Specifications
Capacity

Max. 2000 kg/hour input
Length

Approx. 6.000 mm
Width

Approx. 1.000 mm
Height

Approx. 1.800 mm
Video's