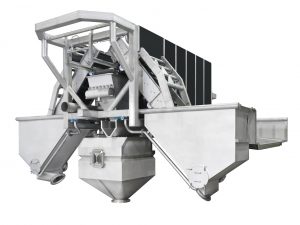 Rinsing line
Murre Technologies has been producing on-board rinsing lines for mussel cutters for many years. Since it is important that the mussels are delivered to the processor with as little waste as possible, they must be properly rinsed. Firstly, they are rinsed in the hoppers and later via pintle conveyors that are dimensioned in such a way that undersized mussels are washed away.
Murre Technologies has a number of rinsing line options. The best option for you depends on the ship and the fishing conditions. We have also developed stone separators, which separate any stones from the mussels. The mussels can be transported further in a number of different ways, such as via a distribution tube, a telescopic distribution channel or via a conveyor system. Murre Technologies has developed a rinsing hold with an unloading conveyor, so a crane is no longer needed to unload the ship.
Specifications
The capacity and dimensions are always determined in consultation with the customer.
Video's