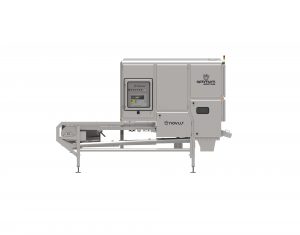 Novus
The NOVUS is available in different sizes. Its maximum scanning width of 2400 mm makes it the widest optical belt sorter on the market.
The base frame of the NOVUS has been thoroughly redesigned to comply with the strictest hygiene standards and the most recent machine guidelines. Moreover, it's modular, so that the NOVUS can be easily configured according to the needs of the user and also, and this is new, it can be expanded with the same flexibility after installation.
The NOVUS is equipped with metal detection technology, making it the only machine on the market that combines three sorting technologies. The M-TEC module built into the frame detects and removes tiny stainless steel, ferrous and non-ferrous metal particles that the cameras and lasers might possibly not detect. The module is made up of several smaller coils, which means that its detection sensitivity is greater than that of traditional metal detectors.
The NOVUS is equipped with the advanced high-resolution cameras (RGB, IRGB, InGaAs or IR) known from the FOCUS, but the camera mounting has been improved and the lenses optimized.
To further increase its sorting accuracy, the NOVUS can be equipped with the latest generation laser scanner as was developed for the VENTUS, and this can be used for a scanning width of 1800 mm without sacrificing performance. For example, the NOVUS has an impressive laser scanning speed of up to 4000 scans per second, resulting in an optical resolution of 0.3 mm, the highest resolution of any laser sorter on the market.
The ejection module was also overhauled. New ejection valves have been introduced that can switch faster and have a longer life. At least as important: Optimum uses standardized valves, which are much cheaper in terms of repair and maintenance.