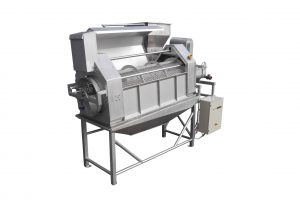 Highpressure washer
The highpressure washer is especially developed for the processing of fresh mussels.
This highpressure washer removes seaweed, tunicates etc. and cleans the mussels by means of a large quantity of high pressure nozzles that spray the product.
The machine consists of a sorting function as well by means of a barrel. This barrel takes out the mussels that are smaller than the rod distance, which is selected at order by customer.
Specifications
Capacity

8,800 lbs per hour (based on 27 mussels per lb)
Length

118"
Width

59"
Height

69"
Video's