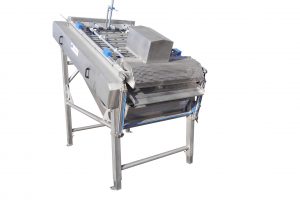 Debyssing machine
The debyssing machine is especially developed for the processing of fresh mussels.
The debyssing machine removes the byssus threads from mussels which have a minimal protruding length of ± 13/32".
The debyssing spindles have a standard diameter of 25/32". For thinner shells and smaller sorting sizes the machine can also be fitted with 9/16" or 5/8" spindles.
The complete raking system which distributes and conveys the mussels, can be lifted pneumatically. Therefor the debyssing machine is easy to clean and maintenance friendly, offering a high capacity.
Specifications
Capacity

The capacity of the mussel sorter is based on approx. 26 mussels per lb.
Debyssing machine Type 1200 3,300 lbs/hr

(LxWxH) 95"x 67" x 83" (approx.)
Debyssing machine Type 1000 2,750 lbs/hr

(LxWxH) 95" x 59" x 83" (approx.)
Debyssing machine Type 800 2,200 lbs/hr

(LxWxH) 95"x 51"x 83" (approx.)