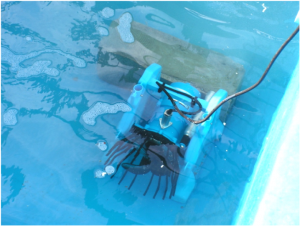 BRIO
The BRIO circulator is a virtually permanent complement to a SKIM or PROTOS installation. In fact, it is a real relay both in terms of mixing the water and facilitating the extraction of pollutants (displacement of sediments or suspended matter). It thus prevents the creation of any dead zones.
The BRIO displaces the mass of water in the pond and provides:
– Effective distribution of the dissolved oxygen supplied by the treatment units
– Effective distribution of temperature throughout the pond
– A throughput of 130 m /h (1T)
Where the configuration calls for more current pattern options, the RIO range has been designed with this in mind.
Specifications
Technical details:

Submersible and lightweight motor (easily moved from pond to pond)
Option of floating and angled deployment of the motor unit (possibility of directing the water flow)
Corrosion-protected motor in marine-grade bronze
Supplied with 20 m of cable