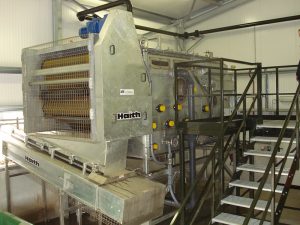 Belt press
The roller belt press has been designed for systems that process either small or large volumes of waste water. The belt press processes waste water to create a concrete end product. The machines vary in width (0.5-3 m), but the general design remains the same. Each machine has a stainless steel frame with collection reservoirs for the extracted water.
Unique characteristics:
– Self-controlled
– Variable pressing speed
– Extremely robust
– Low maintenance
– Available in various widths: 500 mm, 1,000 mm, 1,500 mm, 2,000 mm, 2,500 mm and 3,000 mm.