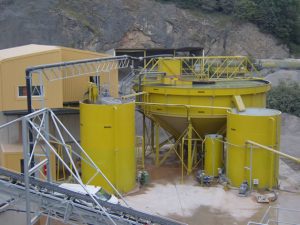 Water Treatment
Haith has a proven track record and over 40 years experience designing and manufacturing water treatment systems for a range of industries specialising in waste water recycling. They supply different solutions:
Auto Sampler: The Haith Auto Sampler is used to automate and optimize the addition of polymer based on fluctuations in solids loading. The unit draws a sample up from the effluent for analysis, using the settlement time to determine if the flocculant dose is correct. The dosing pump is then adjusted incrementally to maintain optimum settlement during further treatment.
Rotary Barrel Screen: The Haith Rotary Barrel Screen can be utilised across many different industries. The screen is suspended by a top drive shaft and belt driven around the periphery. The effluent is directed to the back of the screening barrel to maximise dewatering time, with the effluent falling through the screening element into the base tank. The barrel has internal flights to convey and agglomerate the screenings along the barrel length to the discharge chute.
Rotary Paddle Screen: Haith offers a wide range of screens and screening systems for utilization in many production processes including vegetable and mineral waste. The screening element can be changed to suit various applications. Each screen is designed for long life with minimum maintenance. Screens are manufactured in mild, stainless steel or galvanised and can be supplied with or without platforms.
Lamella Separator: The range of Haith lamella settlers designed and developed by the Haith in-house team offers seven models with a flow capacity ranging from 10³/hr to 150³/hr. Employing the ultra-efficient counter-current design, with removable settling lamella plates angled for solids accumulation and thickening. A bottom sludge hopper with rake stirrers help consolidate the slurry to a desirable thickness, and then discharges at a predetermined specific gravity by the Haith slurry monitoring system.
Reception Sump: The Haith Reception Sump is supplied as a complete pump station solution, with mixer, course screening and duty standby pumps as an option. Available in multiple capacities to suit different site discharge volumes. The sump can be installed in most ground conditions fully finished to minimize install time.
Multi Chamber Plate Press: The Haith slurry de-watering filter press is used to separate solids from liquids using multiple chambered plates covered in filter cloth. The slurry is pumped into the machine at pressure flooding each individual chamber and depositing solids creating a dry cake. The clean filtrate water leaves the press through discharge ports and can be collected for recycling. Once the press has reached the desired cake dryness opening starts and the plates are indexed in a controlled discharge sequence releasing cake from the machine.