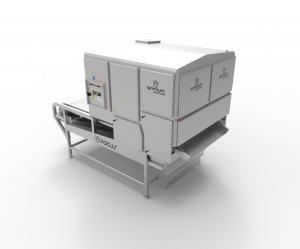 Focus
The Focus® is an optical sorter, especially developed to sort products with various optical deficiencies.
At the product flow discoloration, deformation and foreign objects are detected and removed accurately. The Focus® can be used for fresh/dried or frozen crustaceans and shellfish, like mussels, cockles, clams and shrimps. Use of the Focus® will lead to quality improvement of your final product, but also to a stable quality, resulting in lower production costs.
Supported by innovative detection and analyzing techniques, the Focus® identifies your product at the highspeed belt. Your products will be identified, classified, and if needed be removed. The Focus® will inform you live about the decisions made, based on your given criteria.The modular construction of the Focus® makes it possible to choose the perfect harmony of cameras, lighting and other techniques for your application in order to achieve the best sorting result.
The Focus® is available in four models with a scan width of 600, 1200, 1800 or 2400mm.
Specifications
Capacity and LxWxH Focus 600

4-5 ton per hour, 4.200mm x 1.150mm x 2.700mm
Capacity and LxWxH Focus 1200

8-10 ton per hour, 4.200mm x 1.750mm x 2.700mm
Capacity and LxWxH Focus 1800

12-14 ton per hour, 4.200mm x 3.250mm x 2.700mm
Capacity and LxWxH Focus 2400

16-18 ton per hour, 4.200mm x 3.850mm x 2.700mm
Downloads